This past Saturday, April 21, I was forwarded the opportunity to sing the National Anthem at the Charlotte Checkers Hockey game. What an exhilarating experience at the Bojangles Coliseum! I love singing in front of large crowds because I can feel their energy as they respond to my voice resonating through the air. When singing the National Anthem there is excitement and anticipation to see who is performing but also to get the game started and I felt that power as I was singing. Check out the video and like on social media and youtube!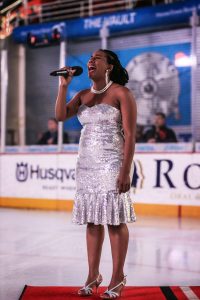 ALSO yal, Persona Bell Band is performing at the 3rd annual International Sandwich Festival on Saturday April 28th from 5 p.m. till 6 p.m.!
Date: Saturday April 28
Time 11 a.m. -6 p.m.
Place: Aldersgate at 3800 Shamrock Drive
This is a free, public festival that celebrates the vibrant cultural diversity of east Charlotte, bringing international flavor and intergenerational activities. Come enjoy food from around the world and a rich blend of musical entertainment acts at this family-friendly festival. Popular food trucks and restaurants including Yummi Banh Mi, Hiya and a Taste of Havana will be on hand and musical entertainment will range from international vocal, instrumental and dance ensembles to Jazz, Soul and R&B.